Fleet Car Leasing Explained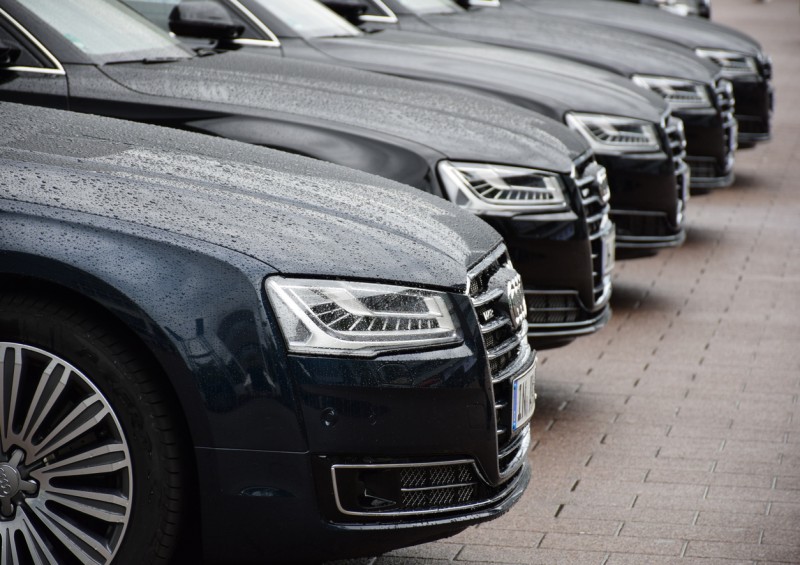 Fleet Car Leasing or Purchase – What Are the Options?
How Does Fleet Leasing Benefit Employees?
What is the Process for Leasing Fleet Cars?
What Are Fleet Cars?
A fleet of cars is, quite simply, a group of cars.
Rather like 'pack' for wolves, 'collection' for stamps and 'swarm' for bees, 'fleet' is the collective noun for a group of vehicles.
What is a fleet car?
A fleet car is one car in a group. In business, this means one of many company cars and can be anything from a small runabout emblazoned with the company logo, to a desirable luxury executive-class vehicle as a perk for the CEO.
How many vehicles in a fleet?
As long as you have more than one car, it's a fleet – so the smallest fleet is two cars.
What is fleet leasing?
Fleet leasing for business purposes is a way of obtaining multiple car lease deals in one go, saving the business owner money, administration and a huge amount of headache!
What Is a Fleet Lease?
When employees need vehicles for their job, it can be beneficial for the business to be the one providing the car. Once more than one company car appears on the roster, the business has a fleet.
Taking out a fleet lease means leasing more than one car at the same time, from the same leasing provider. It has a significant monetary advantage as well as other benefits, from administrative ease, to the sleek look of uniformity.
Many companies can offer a fleet lease for businesses, and we at Complete Leasing are experts in helping you find the perfect fleet leasing options for your company.
Fleet Car Leasing, or Fleet Purchase – What Are the Options?
There are four main options when it comes to providing a fleet of vehicles for your employees' use:
1. Business Fleet Contract Hire
Contract hire is a popular choice for businesses across the UK. Like the name suggests, you are hiring the vehicles and they are never owned by the business – this saves on both the initial payment and the monthly costs, and also takes all of the responsibility of owning a vehicle off your shoulders and places it squarely onto those of professional car leasing companies.
The advantages of fleet contract hire:
Always a new car – with contract hire, the cars provided will usually be from brand new showroom stock and remain with you for three years. The peace of mind that comes from having a new car and knowing that it remains within warranty for its entire time with you can be a major factor in deciding your car lease plan.
Three-year warranty – as mentioned above, a contract hire car comes with a warranty which is more than likely to be in force across your entire time with the car. If anything goes wrong, it's a simple case of return and either an immediate repair or replacement. A warranty also takes away the fear of your company cars suddenly costing you hundreds of thousands of pounds during tight months with no notice.
Maintenance cover – an optional extra, but one which is advisable to take, a maintenance contract can remove the responsibility for wear and tear, servicing the vehicle and maintaining tyres and take that back to the leasing company. By doing this, you ensure that your company cars are 100% trouble free, leaving you with nothing more than fuel and insurance to worry about.
Lowest initial outlay – with car leasing on contract hire, you don't have to find the incredible amount of capital that may be required should you want to purchase cars. The initial cost of contract hire on your fleet can be worked to suit your company cashflow, allowing you to get your people on the road as soon as possible.
Lowest monthly outgoing – with contract hire, you are paying for the depreciation of the cars and little else. This means it is less of a hit to your monthly company finances than any other option. The benefit of a fixed monthly payment also allows you to manage your company finances easier.
Upgraded replacement – like a mobile phone contract, once your lease term comes to an end you have the ability to repeat the process, now taking advantage of all the newer cars on the market. When your renewal period rolls around you can look at trading in your three-year old model for the superior new offerings.
An improved balance sheet – as you do not own the car, it doesn't show up as an asset on your company accounts, reducing your tax liability and improving the look of your company balance sheet to potential investors and lenders.
Low administration – all the general administration duties for owning a car fall on the leasing company's plate, leaving you to get on with running your business with little in terms of a time overhead regarding the fleet. This includes paying for vehicle excise duty.
Tax relief – vehicle leasing payments are up to 100% tax-deductible, with VAT relief on cars at 50%, and commercial vehicles at 100%.
2. Finance Lease
A finance lease is only relevant for commercial vehicles (vans etc.) rather than standard cars, but if these are going to form a substantial part of your fleet, it is worth looking at.
Finance lease vehicles are still owned by the leasing company, but the value of the vehicle can be listed as an asset on your company books.
It is a flexible lease agreement with a final balloon payment at the end, which can vary depending on the size of the monthly payments.
Advantages of finance lease on commercial vehicles:
No mileage limit – other forms of leasing come with a fixed yearly mileage limit with penalties for excess mileage. Finance leasing gives you the freedom to drive without restriction (although the end payment may be affected by high mileage).
Flexible payments – the monthly payments can be negotiated to meet a level suitable for your company cashflow.
Extension of contract – should you want the vehicle for longer than the initial term, you can extend for additional years.
Increased company assets – if you are looking to increase the overall valuation of your company, finance leased vehicles add to your assets without the capital outlay.
3. Outright Purchase Lease
For VAT-registered companies that want to end up with ownership of the vehicles after the lease term, outright purchase gives that option.
A final optional balloon payment based on an initial valuation and adjusted if there is any discrepancy in value can be paid to secure full ownership of the vehicle at the end of the term.
Advantages of outright purchase lease:
The value of the vehicle counts as an asset – like finance lease, the vehicle adds towards the overall company value.
Monthly payments are VAT exempt – the main lease is exempt from VAT, though this additional maintenance package will be subject to VAT as usual.
Own the vehicle outright – it's yours to keep should you want it at the end of the contract.
4. Buying a fleet of cars
The final option is the obvious one of eschewing leasing companies altogether and purchasing a fleet of cars yourself.
This has some advantages, in that you own all the cars and they become company assets, but a great number of disadvantages:
Exceptionally high capital outlay.
Worry over depreciation.
Regular maintenance and servicing costs.
Potential for sudden, unexpected expenses.
Additional administration.
There are many benefits of leasing fleet cars, and for most companies, it can be seen that a fleet vehicle is not a good thing to buy. However, if you have the capital for fleet costs, it remains a viable option.
How Does Fleet Leasing Benefit Employees?
In a competitive job market, offering anything to potential employees to stand out from the crowd is a huge advantage. It has been shown over many years that company car drivers consider the perk of a fleet car to be a major component in both initial enticement and long-term company loyalty.
Not only does the allure of a company car draw in top-quality talent, but once they are used to the advantages of a car provided by work, employees are far less likely to look for a move away from the company – unwilling to lose their car as part of a change in employment.
Having a fleet of cars also adds an externally perceived level of confidence in the company, it increases camaraderie between colleagues, and if the insurance policies are designed such that employees can lend their company cars to each other (and those without their own assigned fleet car), can help build relationships within the company.
Far from being small side effects, the culture that comes from being part of a company with a fleet of cars is not to be underestimated.
Benefits in Kind – Employees and BiK tax
Employers with personal use of a company car will have to pay a tax contribution for having a perk which is above their salary.
This Benefit in Kind (BiK) tax is based on the emissions and value of their fleet car and is taken as part of their pay in the same way as standard income tax.
While BiK tax can be off-putting for some, it is substantially smaller than personal purchase or lease of an equivalent car.
Pool cars
Some of the fleet may be 'unassigned' or 'pool cars' – there for the use of any employee that needs one for a temporary period. They are parked at the business premises and are not for personal driving - often they are referred to as cars for fleet use to differentiate them from any car assigned to a specific employee.
Pool cars are exempt from BiK tax, but this is because they must not be used for personal use. Declaring a car as a pool car and then allowing it to be used as a personal vehicle counts as fraud and must be avoided.
Managing a fleet of vehicles
Administering the Fleet
With all the advantages of fleet leasing, when your vehicles are integral to your business, you will need to look at a fleet management system.
Fleet management software is available, from off-the-shelf systems designed as SaaS (software as a service) solutions, to custom-designed applications developed for your specific needs.
When your business relies daily on your fleet of vehicles, utilising a fleet management system is imperative.
Whether it's for the simpler tasks of keeping an eye on vehicle registrations, mileage and maintenance, or for in-depth GPS tracking, telematics and immediate alerts – there is a system right for your fleet.
At Complete Leasing we have people with experience and training in some of the best fleet policies and management systems out there – from software able to run a fleet of taxis, to fork-lift management programs. Let us know if you need any advice on your fleet administration and we'll be there to help.
Taking Good Care
Of course, managing the fleet is not only about the administration – when leasing a car, you are responsible for keeping it clean and well looked after. Remember – you are going to be eventually returning the car to the leasing company and any damage through neglect will incur additional financial penalties.
Fleet Vehicles and Tax
Unfortunately, owning a fleet of cars and simply offsetting them as a capital allowance is not possible. This is because cars don't qualify for the Annual Investment Allowance and instead must utilise the Written Down Allowance.
This is another substantial advantage of fleet leasing, where the complexities of tax are simplified immensely.
For those looking to own their fleet, the exact amount the car can be written down depends on its CO2 emissions. Electric cars with zero emissions can be written down at 100% in the first year, while those with low to moderate emissions (up to 130g/km) are able to be written down at 18% per year, and high emitting cars (over 130g/km) a meagre 8%.
VAT can be offset against company vehicles that are not used for personal use (vans, fork-lifts, busses, etc.) at 100%, and those with cars that are also provided as an employee perk at 50%.
It is also important to pay Class 1A National Insurance Contributions on the taxable value of those cars of 13.8%, and there is additional tax if you provide fuel for your fleet.
With all these details, the specifics of tax for your fleet can become complex, and obtaining full advice from your accountant is advised.
What is the Process for Leasing Fleet Cars?
Give us a call at Complete Leasing today - we are here to help you find the best fleet cars in the UK and can guarantee the most affordable fleet prices anywhere.
After an initial conversation, we will be able to work with you to determine the perfect fleet for your needs, whether it's a uniform fleet of identical vehicles, or a range from a comfortable daily car for your team through to luxury executive cars for yourself and your management team.
We are experts in fleet leasing and fleet finance and are on hand to offer you advice on any aspect of your fleet needs.
Call Us Free on 0800 080 7042
We can help you with all your leasing needs, get in touch with us today