Michelin Reveal Game-Changing Airless Tyres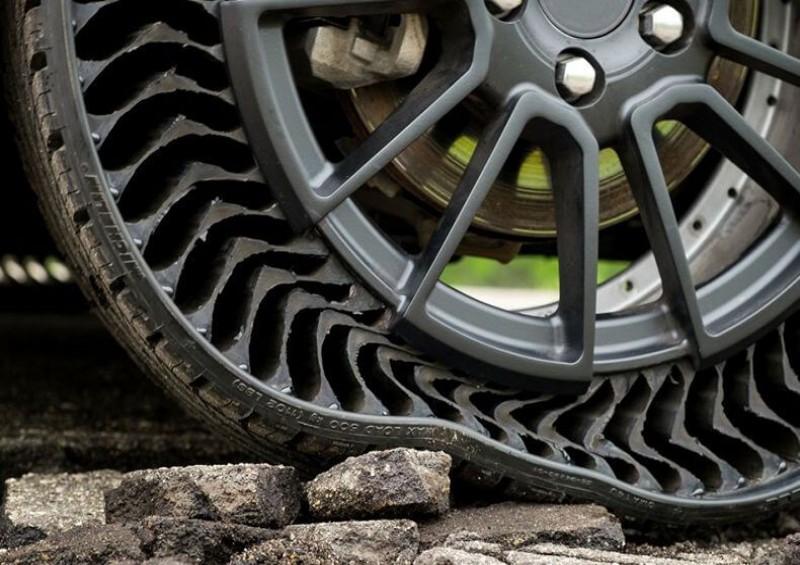 Michelin recently unveiled its newest and perhaps most ground-breaking innovation to date – a totally airless tyre.
Yes. That means no more punctures, blow-outs or flat tyres!
They're currently in prototype phase, but the French-based tyre giants hope to take the air out of tyres with its 'Unique Puncture-proof Tire System' (Uptis) by 2024.
Working in partnership with General Motors, Michelin hopes the tyres will transform the industry and take it to new heights, refining the average driving experience and enhancing fuel economy, sustainability, and most importantly, driver safety.
Safety first!
With more than 1.25 million people dying each year as a result of road traffic collisions (according to the Department for Transport), any safety developments should be welcomed by all. Michelin are seemingly on to something here and it could genuinely have a significant impact on the safety of motorists around the world.
Michelin airless tyres would mean the end of flat tyres, punctures and blow-outs, which could eliminate the 3,500 tyre-related incidents that occur in the UK each month.
Although airless tyres for cars are in the early stages of development, within five years, Michelin could legitimately eradicate all the problems that arise as a result of faulty or unsafe tyres.
Tyre Maintenance and reliability: What are airless tires made of?
Uptis, or puncture-proof tyres, are made from resin-embedded fibreglass and an aluminium wheel, so they would need next to no maintenance under normal circumstances – providing drivers with a far greater peace of mind on longer journeys.
They're seen as being far more reliable than traditional tyres, of which 200 million are currently being replaced each year. 200 million punctured tyres – Michelin say that's the equivalent of 200 Eiffel Towers!
Sustainable and renewable
And the benefits don't stop there.
Michelin's current executive vice president, Erick Vinesse, stated that the company has a vision of becoming 80% renewable in everything that it does within the next 30 years, so the big bosses at the French manufacturer certainly have an eye on the future of sustainability within the industry.
Vinesse says that the company are hoping to move with the times and become a major player in the move towards a more sustainable, renewable future for the benefit of the environment.
Tyre safety and maintenance
While we'll have to wait a few years for these Michelin airless tyres to be available on our leased cars at Complete Leasing, you can learn how to properly maintain your current tyres by checking out our guide.
For now, be sure to take good care of your vehicle and tyres, and use the following tips to enhance your tyre safety and reduce the risk of a blow-out:
Check your tyre pressure
Regularly check your tyre tread
Consider winter tyres
Check your wheel alignment
Keep an eye out for our first cars with puncture-free tyres - you never know, they could be here as early as 2024 if Michelin's predictions are accurate!
Image source: Michelin
Call Us Free on 0800 080 7042
We can help you with all your leasing needs, get in touch with us today