Leasing an Electric Van: The Best Ones to Lease
What is an electric van?
By now, most of us know about electric cars. The steady increase in uptake for environmentally friendly cars like the Nissan Leaf or Renault Zoe means they are now regular sights on the road, and even top-end machines like the Tesla S are becoming more uncommon than rare – but have you spotted any electric vans?
The chances are you passed them without knowing, but just as the growth in both vehicle range (potential models on offer) and driving range (maximum potential distance travelled) increases in electric cars, so it does with electric vans too.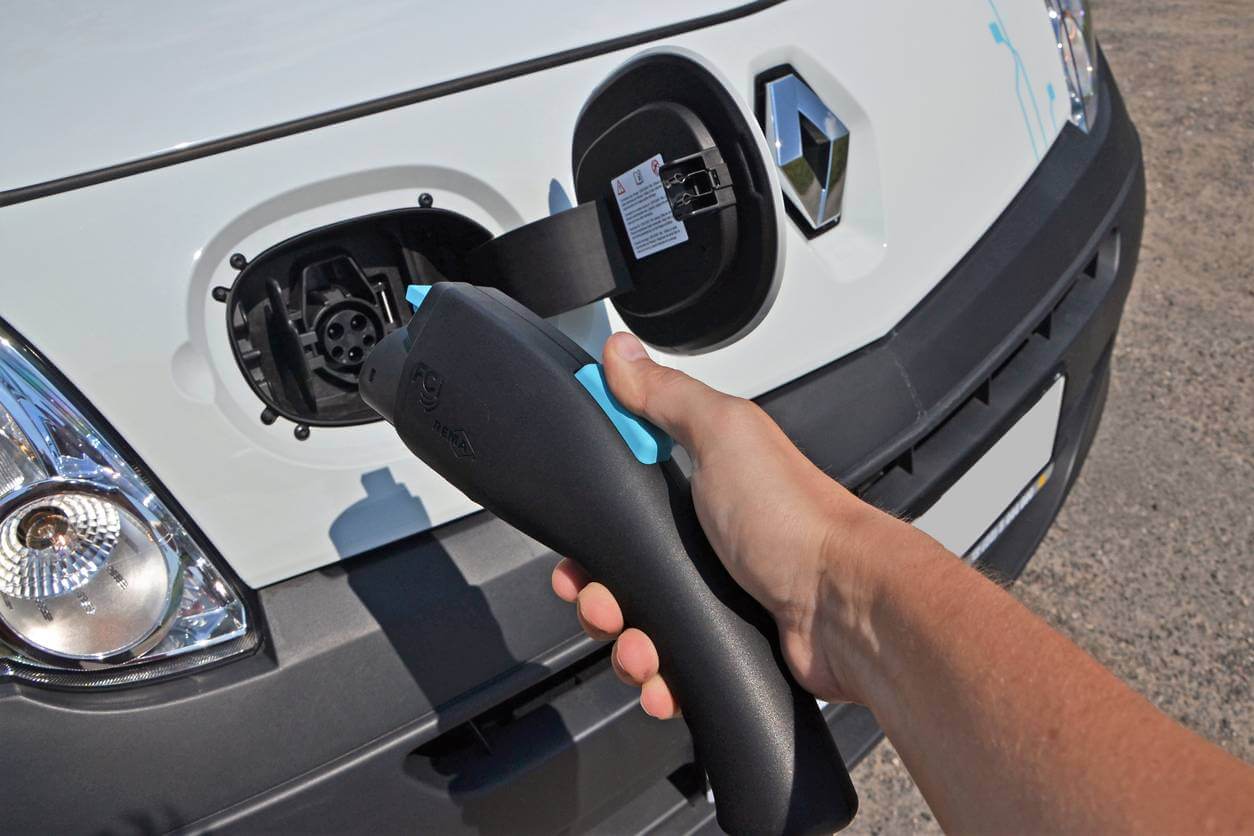 What are the benefits of an electric van?
The positive impact of electric vehicles has been well documented up until now, but it won't do any harm to repeat them here. Electric vans, like electric cars, provide a low-emission solution for driving in our cities that cannot be ignored, giving the chance for future generations to enjoy a purer quality of air in their daily lives. But it's not just about the direct ecological benefits.
Silence
The sheer lack of noise that comes from an electric vehicle is astounding. For our entire lives we have become used to the constant background hum of combustion engines, and no more so than when we are in a van, but to hear (or not hear) the pure silence of an electric van is a revelation.
Van drivers and their companions often find themselves spending hours in their vans during the day, especially if they are covering highly-populated city areas. While it is on a low level that's often ignored, the constant roar of a traditional diesel engine as it deals with mile upon mile of stop-start traffic can have an ongoing effect on the nerves and mental wellbeing of those exposed to it.
Sit in an electric van and immediately you feel a sense of peace that will, over time, lead to happier drivers and a more relaxed working day.
Cheap to run
While the lease costs are a little higher compared to traditional diesel models, the running costs of an electric van are significantly lower. An electric Nissan NV200 (the e-NV200) is up to £200 more expensive per month than its diesel cousin, but anyone who has spent a month using this or a similar workhorse for their day-to-day business and driving will know that it is easy to put £250 or more in fuel into one over the course of a few working weeks – and the cost of diesel seems to be ever-increasing.
There's a little cost for charging that comes in at perhaps a few pounds per day. An electric van soon offsets its higher listed cost with a fuel efficiency that is simply staggering.
Remember also, that these vehicles have a huge advantage when considering electric van taxes – with a full exemption regarding vehicle excise duty and huge benefits when looking at benefit-in-kind rates.
Access all areas
As councils across the UK start to limit access to inner-city areas for high-emission vehicles, the electric van has no such restriction and can get around no matter the CO2 limit. Like the increase in electric vehicles themselves, the nationwide drive to keep city centres clean is on the rise and anyone future-proofing a business that relies on getting to customers in these areas should be looking to electric vehicles as an absolute must.
Image
If there's one thing every good business needs, it's an awareness of its own image. Unless you are delivering goods to the Top Gear studios (and perhaps especially if you are!), turning up in an ecologically-friendly vehicle is going to show your customers just how responsible you are.
The cons of an electric van
Range
Let's be honest, the biggest thorn in every electric vehicle's side is the lack of impressive range. With their need to carry larger loads, electric vans do suffer in this department with electric van range hovering at the 100-mile mark (compared to an average 200 miles+ of a modern electric car). While each year continues to see an improvement on this number, for many, it's a deal-breaker, especially couriers who travel many miles in a single day.
Charging time
Though the increasing number of powerful, dedicated electric vehicle charging stations are helping to improve this, it can take as much as a few hours to get your van back to full from battery-dead.
Choice
With only a few electric vans currently available, your choice is a little limited, although 2019 looks like it's going to be a good year with some major manufacturers like Volkswagen jumping on the bandwagon.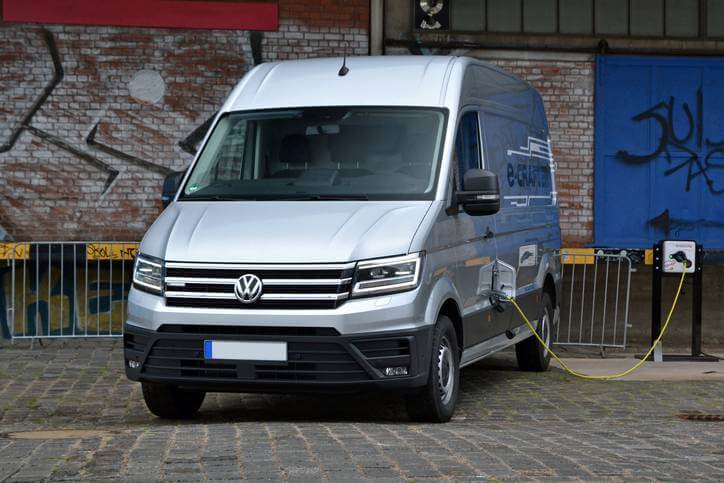 [The New VW e-Crafter arriving in 2020]
The top 3 electric vans
At Complete Leasing, we have our ear to the ground constantly checking the range of electric vans in the UK that are available for business leasing (business contract hire).
Nissan e-NV200 LCV
The Nissan NV200 has been a flagship of the van industry for a decade, with its lightweight frame and impressive internal cargo space making it a great choice for many small businesses. With the e-NV200, Nissan have replaced the standard diesel engine with an electric one and produced one of the finest vans on the market.
The e-NV200 is the electric van that has the longest range in our group, with reported urban rates of 180+ miles on a full charge, making it an excellent option for inner-city deliveries and other similar jobs.
Like its sister vehicle, the Nissan Leaf, the Nissan e-NV200 range is one of its strong selling points which, coupled with reliability and a solid history with year-on-year improvements make it a first-class choice for small electric van leasing.
Citroen Berlingo Electric
The Berlingo van has been a regular on UK roads since its launch in 1996, and the electric version delivers the same standard of drive as its fossil-fuelled counterparts.
Despite being one of the small electric vans, the Berlingo has managed to squeeze three seats in the front, giving you that extra versatility that can be lacking in other models. This, combined with its easy-access cargo space, makes it a great delivery vehicle.
The only thing that lets the Berlingo Electric down is with the range, which officially stands at 106 miles. Despite this though, it has a proven history over the past five years that show a reliable vehicle capable of working hard.
Peugeot Partner Electric
The electric version of Peugeot's popular van manages to keep the feel of the diesel version, with an identical cargo space that isn't inhibited by the electric batteries, thanks to its clever design.
Although the Partner Electric suffers from a shorter range, with a real-world estimate of merely 80 miles on the open road making it suitable only for city driving, it also boasts an impressive charge rate, managing a 75% charge from empty in only 30 minutes using the rapid charger. This means that despite its relatively low range, it is a perfect city runabout, with multiple charges through the day between trips allowing for almost constant day-time delivery use.
The Partner is due to be upgraded, and at Complete Leasing, we are eager to see what comes out of the woodwork in its place!
Everything you need to know about electric vans – FAQs
What are the best electric vans coming in 2019?
With technology constantly improving, the field is becoming more exciting with the Volkswagen electric Caddy and Transporter seeing their debut and the Mercedes-Benz e-Vito coming to the country in the large electric vans arena.
Of course, they join the already impressive selection where upgrades are no-doubt in the pipeline.
Are electric vans more expensive to insure?
The benefits that the electric vehicles offer (in terms of lower risk) should mean that insurance premiums are lower than your standard van. However, higher repair costs offset this situation, meaning that a standard insurer is generally looking at your electric van in a similar category as its diesel alternative.
With electric vehicle specialist insurers starting to appear, however, getting a great deal on your electric van insurance is going to be easy. While traditional commercial insurance companies are trying to find the right place to position their electric vehicle insurance, the new specialist insurers will shake up the market, providing competitive pricing and additional services.
It's definitely worth looking around for one of the specialists to see if you can shave a little off your insurance premiums.
Can I get an electric van with personal leasing or are they restricted to business contract hire?
At Complete Leasing, we like everything to be available to everyone. Give us a call if you find a business-only leased van and we'll negotiate on your behalf to get you the great personal leasing deal you are after.
I'm eager to get an electric van lease – where do I sign up?
Give us at Complete Leasing a call – we will go through all the options with you and find the perfect van for you. Alternatively, fill in our contact form to have someone get back to you at a convenient time.
Call Us Free on 0800 080 7042
We can help you with all your leasing needs, get in touch with us today